We go back into the wonderful designs of architectures as enigmatic as those of Moscow. In this case, it is not a simple open-plan apartment or a penthouse with views of the city, but an incredible private residence in art deco style that has 1,245 m2.
Its interior, in addition to being clearly marked by luxury and sophistication, is also an example of the taste for small details to achieve the dynamism typical of those homes that seem to breathe on their own. The furniture, the natural textures or the decoration are the point that agrees in each of the rooms, thus leaving before us the feeling of attending a celebration of visual harmony.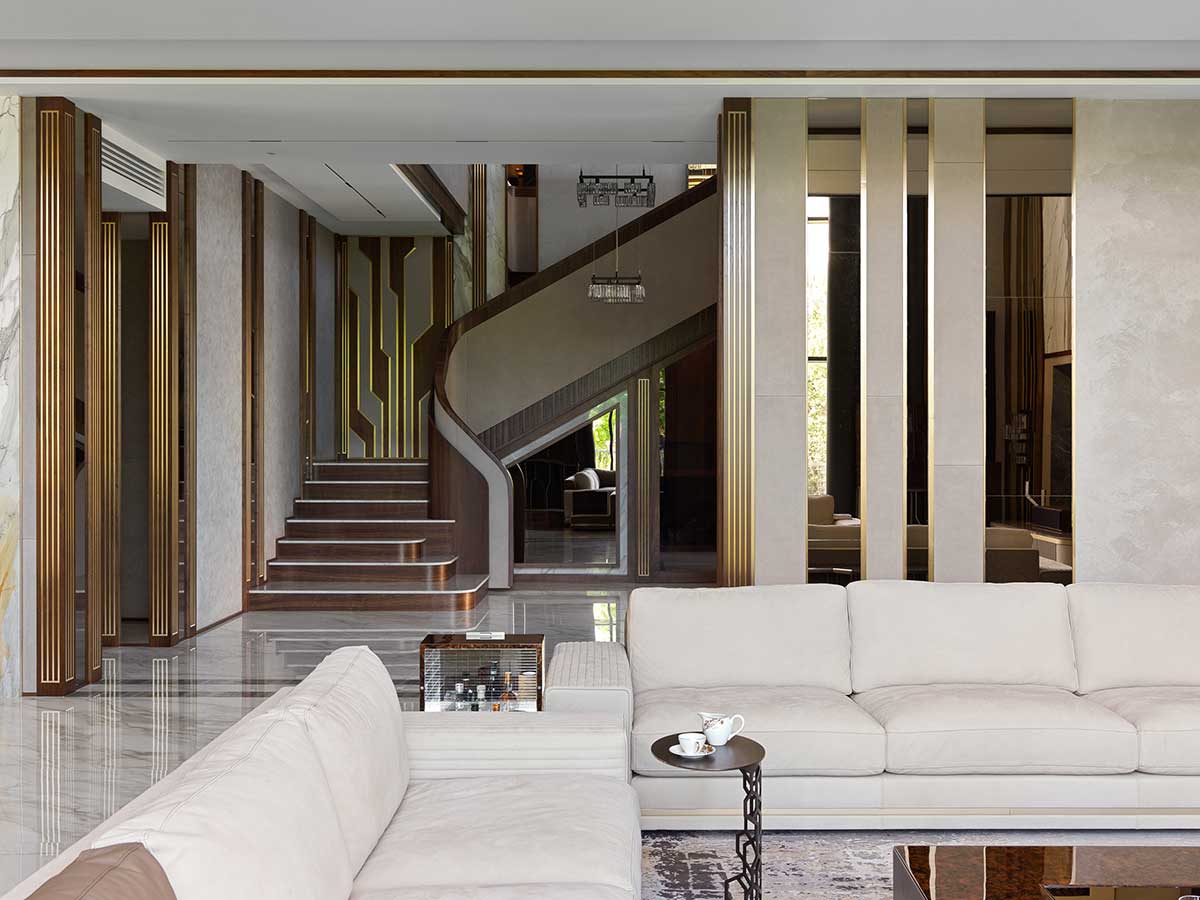 The design of this residence, located on a large plot of land in the Moscow region and bordering on a park area, was designed by designer Katerina Yakovenko from JP Interiors design. The main design concept is based on ensuring that all windows in the main rooms have a perspective view, and neighboring houses do not get inside. It was also necessary to make a cozy covered recreation area with access to the park.
The house is designed so that three bedrooms, a living room, a dining room, a guest suite and part of the spa area open onto a patio overlooking the park. In the patio with access to the pond are the main terrace of the house, a barbecue area and a seating area. Do you dare to discover it?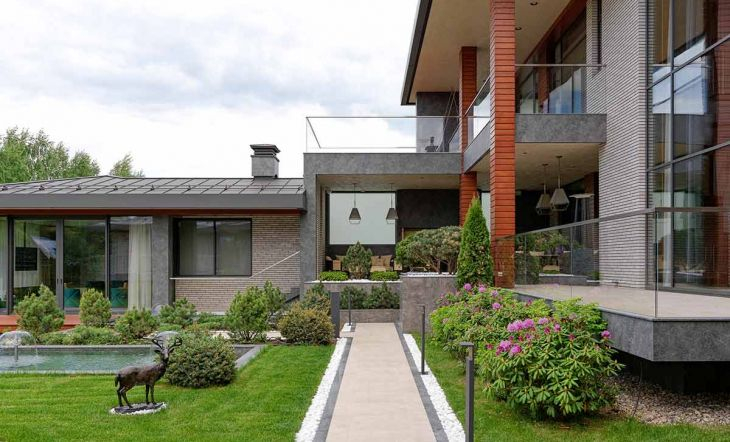 Courtyard view
If we look at the distribution of the residence, the two bedrooms, the kitchen, the study and the other part of the SPA area with a summer terrace are oriented to the south, overlooking the courtyard.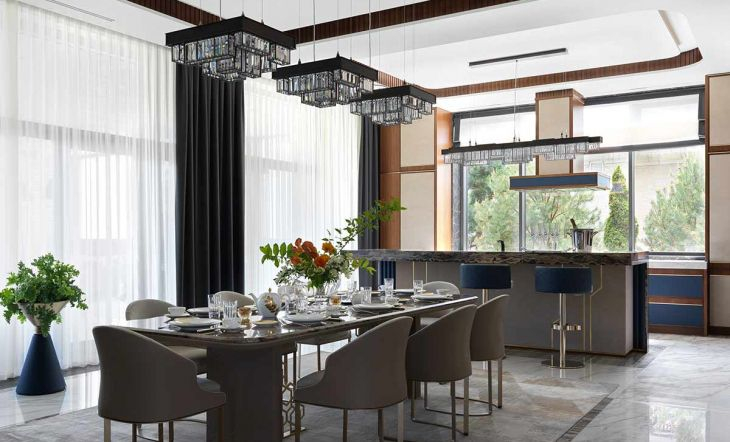 Architectural harmony
All the interior design tasks were successfully solved by combining several architectural volumes in a single structure, site terraces and the introduction in the house project of a through arch that connects the different volumes and organizes the passage of the exterior volume to the courtyard.
Distribution solutions are created taking into account all zoning rules. The different purpose zones are arranged separately, according to their functionality.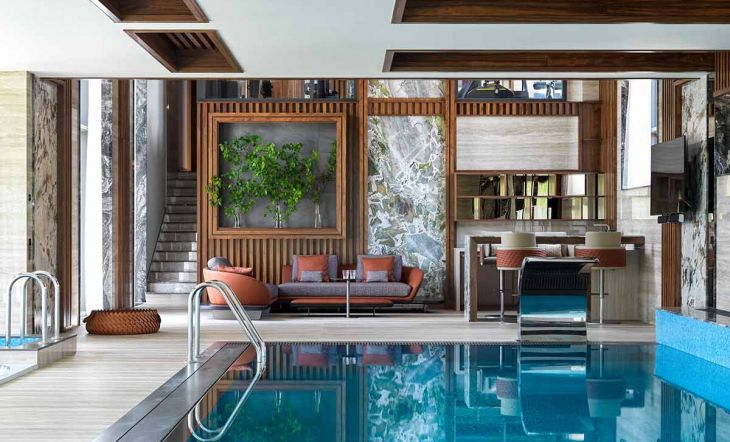 SPA area
In the house there are five bedrooms with their dressing rooms and bathrooms; kitchen, dining and living room area; guest apartment, staff apartment, garage for three cars, SPA area with hammam, sauna and swimming pool, utility rooms including kitchen for guest chefs, laundry room, bathroom.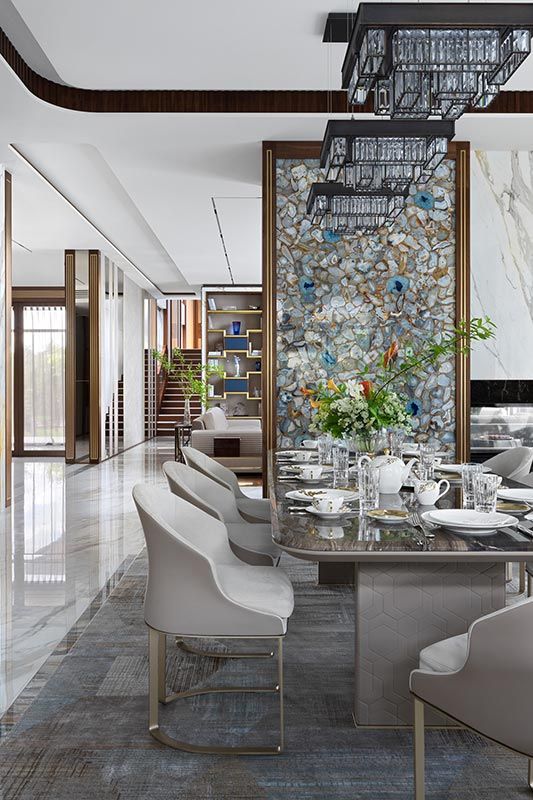 Art deco furniture and accessories
Furniture and accessories were created and designed taking into account non-standard forms, using natural materials for upholstery not only upholstered furniture, but also elements and details of the dwelling. The art deco style elements stand out in each of the details.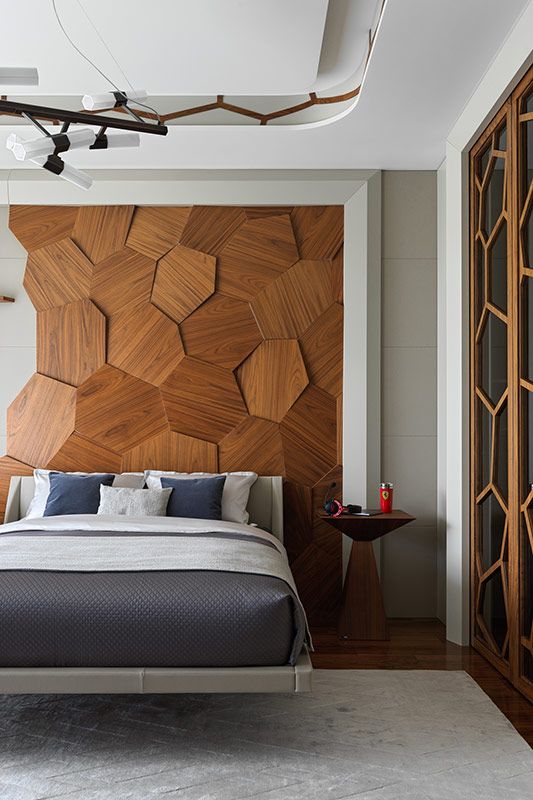 All harmonious unity
The range of colors, finishing materials, natural textures, textiles, furniture, decoration, lighting, light installation, flooring, wall panels create the harmonious unity of the entire space.